The answers to the most frequently asked questions about the amateur race
With one month left to the start of the Open & Master promotional roller ski race in Val di Fiemme, we created a collection of the most frequently asked questions, to creade a short guide on how to face the event on September, 19.


HOW DO I ENTER THE RACE?
Registration is available online until Friday 17th September. You just need to click on the following link, get access to the Event Builder platform and fill in the form with the requested data. After doing this, you need to do a bank transfer with the €20,00 entry fee and forward it to the race office.
WHEN AND WHERE CAN I PICK UP MY RACE BIB?
Bibs will be distributed at the race office, set up at the info point in Ziano di Fiemme (TN), Piazza Italia, on the following days:
Saturday 18th September 10.00 - 12.00 | 14.00 - 17.00
Sunday 19th September 7.00 - 9.00
Participation to the event and bib pick up are submitted to the current Covid regulations. You can check out the Covid protocol for the event here >>
ARE THERE ANY DESCENTS ON THE TRACK?
The track is quite various: it mostly presents flat traits or slight descents, whilst one third of the course is represented by the Alpe Cermis uphill (472m of positive ascent). There are also two short downhills, that should be faced carefully, but they are secured by matresses along the course. If you want to discover more about the course, check out the map and profile here under.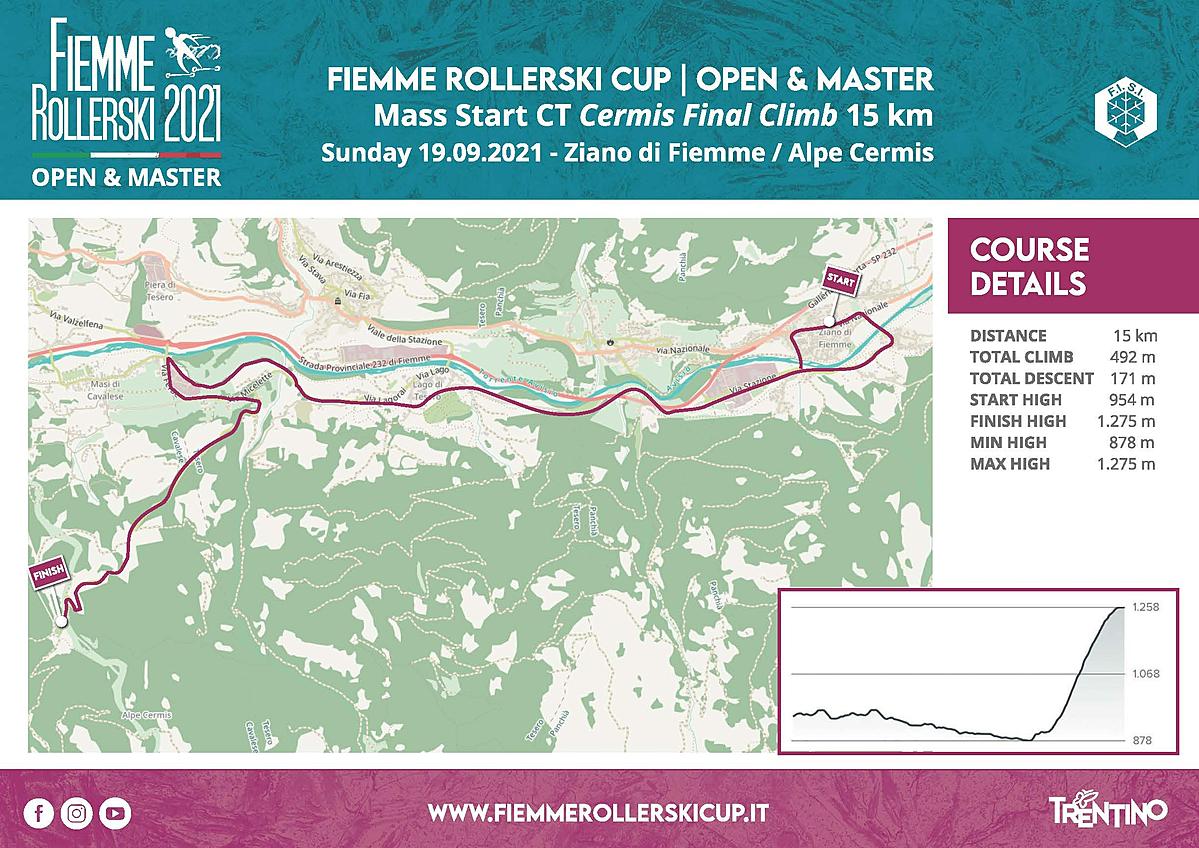 WHAT DOES THE ENTRY FEE INCLUDE?
The entry fee includes several services: the bag transportation from the start to the finish, refreshment points, a packed lunch at the finish, the free use of the cabin to reach the valley and following transfer back to the start in Ziano di Fiemme, alongside with a rich start bag and several prizes for each category. Discover more >>
WHAT WILL I FIND IN THE START BAG?
In the start bag besides the race bib, you will find the official t-shirt of the event by CMP, a discount voucher for the purchase of CK4 Skiroll products - the official technical supplier of the World Championships - and a finisher medal, for all those who will participate.
WHERE CAN I STAY?
The event headquarters are in Ziano di Fiemme; if you still don't know where to stay, you can contact our booking center sending an e-mail at booking@visitfiemme.it or calling +39 462 341419.
I HAVE MORE QUESTIONS, WHOM SHOULD I CONTACT?
If we haven't answered your questions up above nor in the race rules, do not hesitate to contact us via e-mail at info@fiemmeworldcup.com or calling +39 462 352013.